Font test and visualization
Drop your font files in a folder and see their coverage of special characters etc., automagically
About
This is php web page. It automatically fetches all font files from a specific folder and produces a page with font samples in English and four additional alphabets/languages featuring various special characters. The five alphabets are: Danish, English, French, Greek, and Russian/Cyrillic.
Screenshot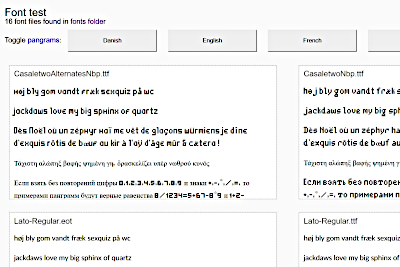 Documentation
Technical information
There are 2 files in the root folder, and a sub-folder named "fonts".
index.php: The page that does all the work,
style.css: A stylesheet for look&feel,
/fonts/: The folder you should drop your font files into. A few sample files are provided, with their respective licences.
Technical requirements
You need to put the files and the "fonts" folder into a folder served by a web server that understands PHP. You also need a browser.
If the fonts does not display right in your browser, feel free to edit the software in any way you see fit. This software has not been tested across the full range of pc and mobile browsers.
To customize the software you only need a text editor.
A developer may find it nice to know some php, html, javascript, css.
Try it
Demo
DEMO - please note that the default layout and design should be changed to suit your purpose and taste.
Install and uninstall
To install the software, first unzip the downloaded file to an empty folder on your pc. Then, upload this folder to your web server.
To uninstall the software, just delete the software files.
It's easy.
Download
License
All download, use, and modification of this software is subject to the W?F! license. By downloading, using, or modifying this software you declare your acceptance of all license terms.
Versions
Current version
The most recent version is 1.0.